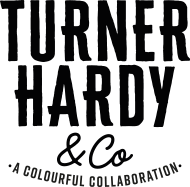 Turner Hardy & Co. is the result childhood friends Eddie Turner and Hugo Hardman and their shared passions for local produce, Bloody Marys and healthy juice recipes. Utilising their delicious and sustainably grown Isle of Wight tomatoes, they have created a 'not from concentrate', premium tomato juice that can either be enjoyed as a soft drink or as part of a cocktail or mocktail. As well as raising awareness of the many health benefits of tomatoes, they hope to ignite a Bloody Mary revolution!

The juices are squeezed, spiced and bottled on the farm where the tomatoes are tendered daily by hand. They also use all the 'wonky' tomatoes that can't be sold directly to others. Of equal importance is the sustainability of the farm. They conserve the CO2 and the heat from a local power plant, reducing their CO2 emissions and everything they work with from the coconut husks to the string for the vines is biodegraded in their own composting plant.
FOUNDERS: Eddie Turner and Hugo Hardman
Ed and Hugo lead an eclectic of mad cap geniuses which they say helps them stay pure, lively and always feisty!